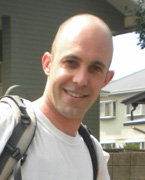 David Goodhue
Senior Animation Engineer - San Clemente, USA
Having been a member of some outstanding dev teams back home, in coming to SQEX, I questioned whether I could be so comfortable and content in a Japanese company. It's no secret that many typical Japanese office jobs involve long hours and overwhelming stress. Fortunately, in Luminous, we maintain a pleasant work environment which doesn't require unrealistic personal sacrifice. I enjoy a comfortable and fascinating life both inside and out of the office. I wouldn't say it's too different from many of the big studios I've visited outside of Japan.
Outside of work, however, things are quite different here, and not in a bad way. Tokyo is perhaps the most convenient city in the world, with an immense array of entertainment options ubiquitously available. Personally, I really enjoy how easy it is to get to so many great places quickly and easily by bicycle. For those who enjoy new life experiences, I highly recommend Japan as an enjoyable and welcoming place to live, and Tokyo especially as a place which is easy to navigate even without local language skills.
As for the Luminous project, it's a really unique opportunity in this industry. Here I am, working for a company I practically worshipped as a child, having grown up playing their excellent lineup of NES/SNES titles. I feel privileged to carry on that legacy by being part of their core team focused on advancing game engine technology, laying a firm foundation for generations of SQEX games to come. Instead of being limited by strict product deadlines which stifle your ability to advance your craft, here you may spread your wings in the company of likeminded creative professionals. If you have what it takes to join us, we welcome your questions, inquiries, and resumes.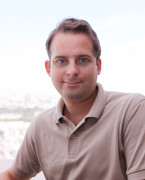 Remi Driancourt
Senior R&D Engineer - France
I first came to Japan fifteen years ago to pursue research in Artificial Intelligence and Natural Language Processing, and was recruited by Square Enix three years ago. Since joining the company, I have had the opportunity to contribute to a wide variety of subjects: Facial Animation, Engine Architecture, Artificial Intelligence, Voice Recognition and Graphics.
Last year, I had the chance to work at the core of the Real-Time Tech-Demo "Agni's Philosophy" showcased at E3 2012. Now, I am involved in new game projects. These three years have no doubt been the best years ever !
Not only is the work challenging and interesting, but there is also something weirdly fulfilling in building virtual worlds. Whether you want to model the emotions of a character or you are trying to simulate the complex interaction of light in a strand of hair, everyday becomes a discovery, every result an act of creation; and when you have the chance to work with a talented team of modelers and animators, you can watch how code transmutes into art.
Square Enix also knows how to provide a comfortable working environment. The staff is international, young, and open-minded. Our new offices in Shinjuku are ideally positioned for easy access to shops and entertainment.
For those who -like me- are passionate about video games, every day feels like Christmas.
If you are looking for your dream job, look no further. Please join us !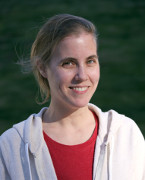 Christina Haaser
Technical Artist - USA
Working at Square Enix had been a dream of mine for such a long time, that sometimes I still can't believe I'm actually here. But I am. Now I get to take part in creating the games I've always loved to play. How awesome is that?!
But it almost wasn't so, because I almost didn't even apply. Somehow I had this strange idea that because I was a foreigner who couldn't speak enough Japanese, I wouldn't have a chance. But I couldn't just give up my dream, so I applied anyway. Imagine my surprise when I was offered a position! I was fretting over nothing!
Not being able to speak Japanese right away isn't quite the barrier you'd think it would be. There is a good deal of English support here, so information doesn't fall through the cracks. You won't find yourself completely lost or unable to communicate your ideas. Many people can speak English or are interested in learning, and more are joining the team every day. Of course, learning Japanese is important too, so there is a growing support group for that as well.
As for culture... well, let me put it this way: I'm a southern suburban girl from Texas, and I've relocated several times over the course of my career. But never to a place quite as exotic, or as far outside my comfort zone, as Tokyo. Yet, the transition here has been smooth. The atmosphere in our department, thanks in no small part to the wide variety of international employees, has been so similar to places I've worked before, that I felt right at home since day one, something which came as quite a welcome surprise.
But best of all, I get to do what I love, and have the opportunity to work with such incredibly talented people to help create something awesome to share with the world!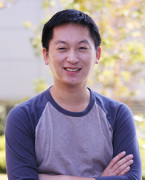 Kay Chang
R&D Graphics Engineer - France
I always had a deep interest in Japanese culture. In France, many people of my generation grew up watching anime on television and playing Japanese video games. Back when I was in high school, I can still remember the excitement of my classmates talking about the release of the next Final Fantasy.
When I heard two years ago that Square Enix Tokyo was looking to build an international team of developers to help them design the next engine that will power their future games, I immediately jumped on that unique opportunity… Who wouldn't? Now, I get to wake up every day in one of the most fascinating, exciting, and entertaining cities in the world, I routinely work with a bunch of amazing people, and I can peek at what the next generation of Final Fantasy games will be about… Not to mention being immersed in a culture that has fascinated me for most of my childhood :)
Working at Square Enix is a great unique experience. For someone like me who grew up in a western environment, it is also an incredible human adventure. Work-wise, most of the time we work normal hours, which is not so common amongst traditional Japanese game studios. In case we do have to crunch to meet a particular deadline, Square Enix will compensate for that in the form of extra holidays (which I usually use to travel across Japan).
Part of the team here is foreign and a lot of the Japanese staffs understand English, so you won't have problems communicating at work. Also, Japanese people are very helpful and you will find plenty of help when dealing with your daily life issues (e.g. signing-up for a phone contract, rescheduling a delivery for a parcel, finding a flat). Eventually, you may want to learn/improve your Japanese in order to better communicate with your Japanese friends, but this all comes in time. That's part of the adventure too… So, do you like challenges?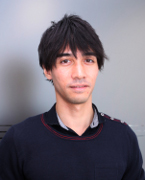 Rey Abe, Ph.D.
R&D Engineer - Austria
As someone with a background not related to the game industry and having no prior experience working in a domestic Japanese company, joining Square Enix Tokyo was a bit of a leap in the dark for me - one that in retrospect I consider to have been the right career step.
Being an R&D engineer in the Advanced Technology Division of the company, I am not limited to learning and applying industry-specific knowledge. I also get to experiment with and become proficient in the latest software development tools, languages and technologies in general. Our team for instance is currently architecting and implementing a scalable distributed system runtime for online games. On a technical level this requires exploring and evaluating different state of the art architectures and programming models, and it is at least as challenging and interesting as working on scalability problems that one would typically associate only with more high profile tech industries or companies. My day to day activities are not limited to dealing with code either. They involve sharing knowledge and discussing problems at seminars in and outside the company, and sometimes even travelling to conferences around the globe. It is indeed a very manifold position that I deem attractive to anyone who wants to go beyond just being a regular developer, and exciting also for engineers who are not necessarily obsessed with games.
As far as the working environment is concerned, I was surprised to find a very international staff, an open-minded culture, and a good work life balance at my job - all of which stand in contrast to what some may perceive as the stereotypical image of a Japanese company. And needless to say, living in a city like Tokyo is an adventure of its own that will never leave you bored after work either. So, if you feel like stepping up your game both in terms of your professional and private life, joining us at the Square Enix Advanced Technology Division is undoubtedly a great opportunity to do so.